MICROBE NINjA™ OFFERS SOLUTIONS & OPPORTUNITIES
to use and PRODUCE HYPOCHLOROUS ACID AS AN OPTION TO CHEMICAL-BASED CLEANERS AND hand SANITIZERs.
ALL-NATURAL CLEANser & DEODORIZER…


HUndreds of uses:
OFFICES, restaurants
RETAIL STORES
SCHOOLS and more…
WhY HYPOCHLOROUS ACID?


A NATURALLY DERIVED, highly-effective cleaning agent.
It is non-flammable, nonpoisonous

, eco-friendly and very cost-effective!

Brought to you by
Microbe Ninja…
The
NinjaGen
is a line of on-site hypochlorous acid (HOCL) generators. Offered in a variety of sizes, these generators use only water and salt with a small amount of organic to create an effective and completely natural and organic cleanser and deodorizer (
hypochlorous acid) solution
for pennies on the dollar! Generate 200 to 500 ppm ph neutral HOCL solution.

The NinjaGen Compact is designed for small commercial business and home use. A free trial is available for farmers and growers to test the value and effective use of HOLC in helping to reduce and prevent crop damage caused by pests and pathogens. After 90 days, if the trial is successful, the generator can be purchased or upgraded to a NinjaGen 360, 144 or 1440 generator.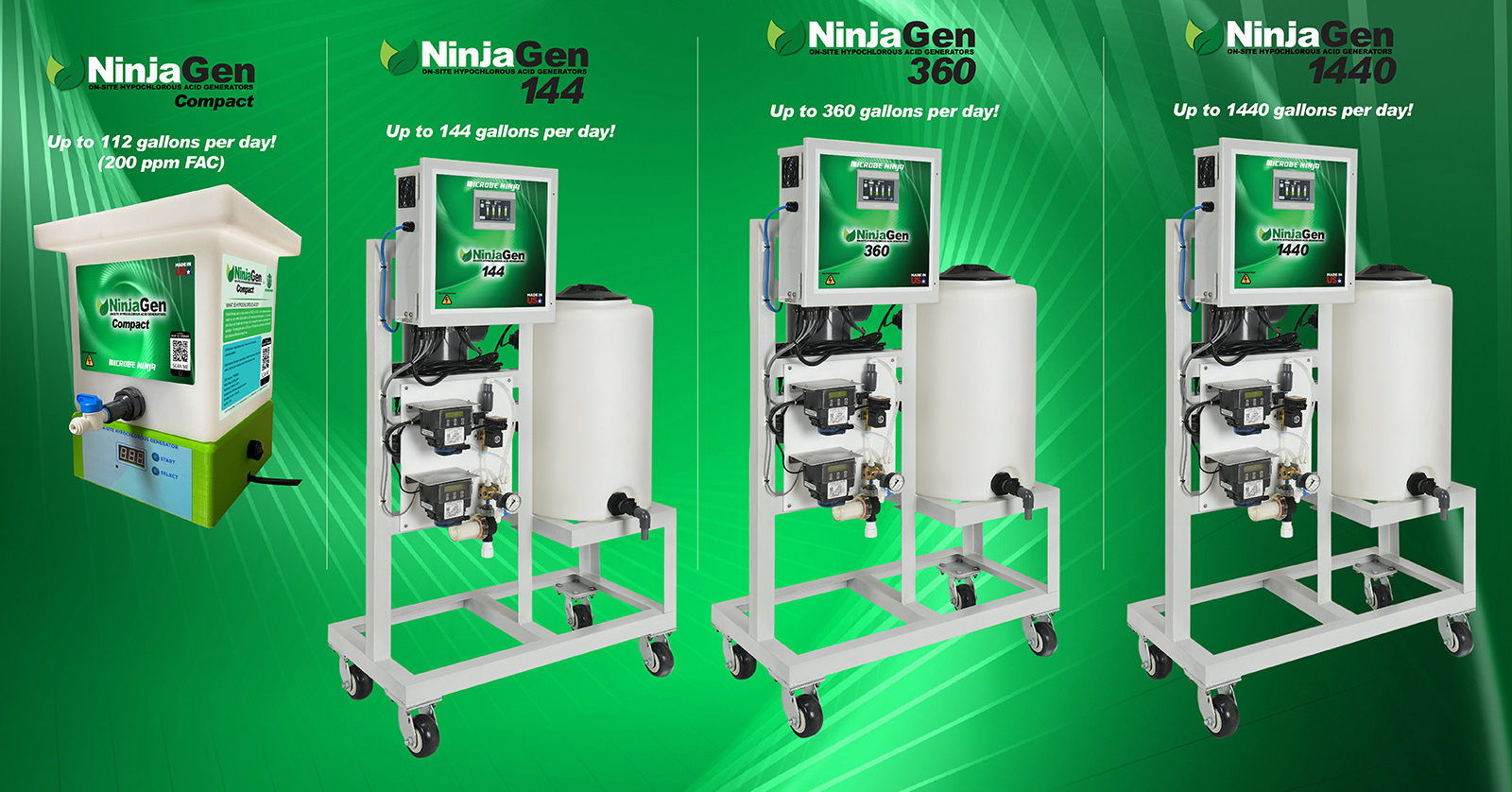 The Microbe Ninja SaniCube cleans and softens hands, touch-free!

Add Microbe Ninja's all-natural, organic
hypochlorous acid
solution for cleaner and softer skin.
Brought to you by
Microbe Ninja…
Our Hands-Free
SaniCube
is a touch-free, hand cleanser dispenser for all types of business including medical offices, retail stores, schools, personal and household use, and more!
Brought to you by Microbe Ninja…
Our Ready-to-Use Hypochlorous Acid
Cleaning and Deodorizer Solution
Microbe Ninja offers effective and completely organic all-purpose hypochlorous acid organic cleanser and deodorizer solution for everywhere and everything from homes and businesses, to schools and pets.
Adam Zax Compares the efficacy of Microbe Ninja 200 & 500 ppm to Lysol Disinfectant
Watch now…
A Turnkey Business Opportunity!
The Microbe Ninja Cleanser & Deodorizer Application Business
Microbe Ninja offers a turnkey business opportunity that can be added to an existing business or operated as stand alone service business. A NinjaGen generator will be included in the set up package. Total price based on size of generator chosen.

Microbe Ninja is an effective, all natural and completely organic all-purpose hypochlorous acid organic cleaning and deodorizing solution for homes, businesses, schools, and more.