Hypochlorous Acid Applicators that can be placed anywhere and everywhere…
500 sprays with one
insert bottle!
Save on costs of:
Water, soap, trash, traditional
(drying) hand sanitizer
pump bottles and more.

A hypochlorous acid applicator is the best way to clean, moisten and soften hands and skin!
A touch-free hypochlorous acid applicator, the SaniCube means
"no touching" where other
people have just touched
to clean and sanitize their hands!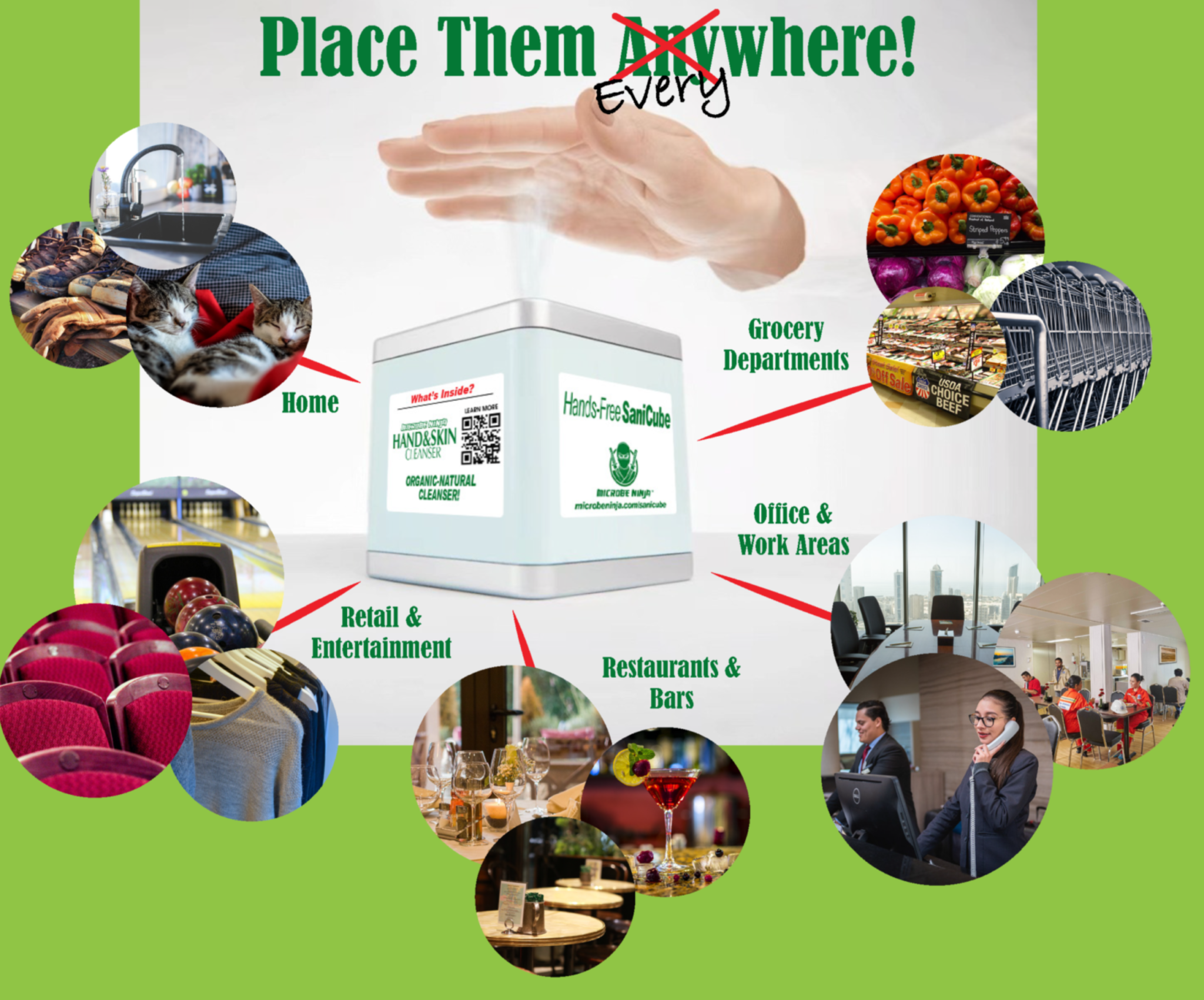 The Special SaniCube Package Includes:
1 Sanicube
2 Product* Insert Bottles
Single Unit Charging Base
*1 quart Microbe Ninja™ Hand & Skin Cleanser 200 ppm FAC (HOCL)
10 Chlorine PPM Level Test Strips
with Color Key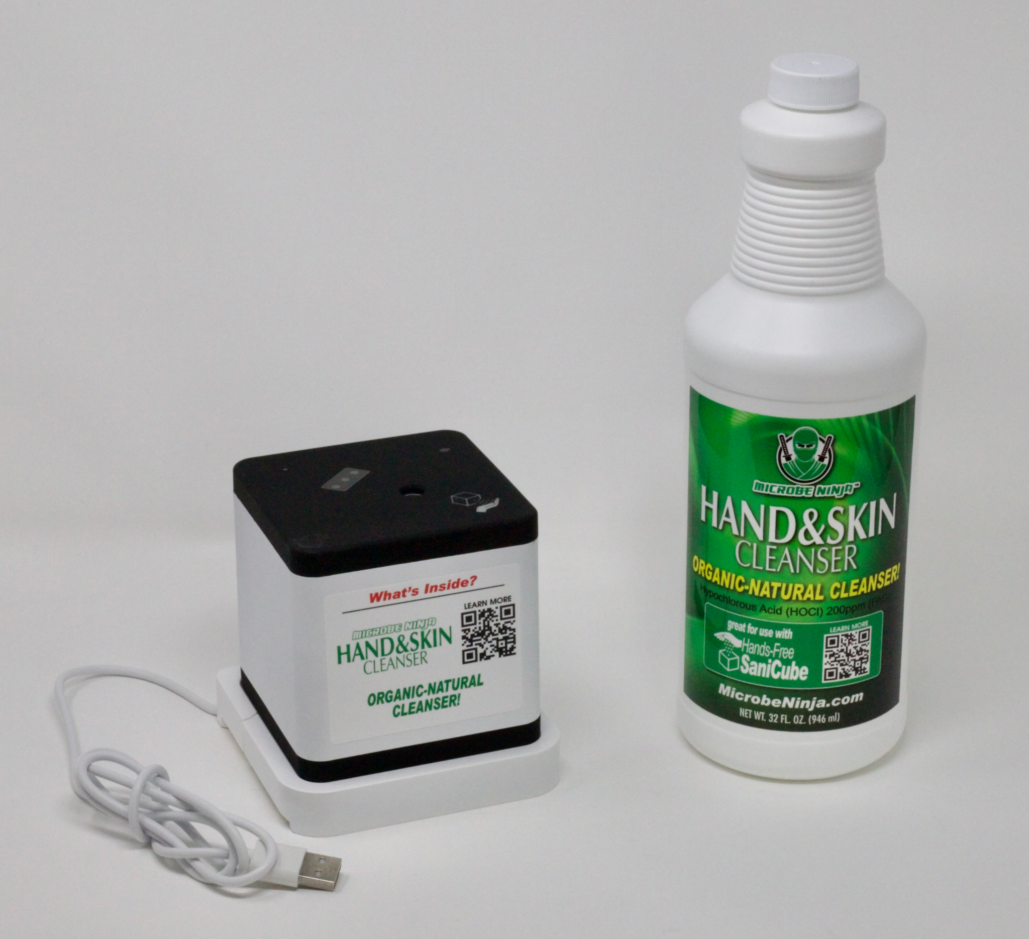 Bulk pricing available
at 20 units or more.
Additional accessories are also available including:
Logo/branding
4-plex charging bases
pedestal advertising (bases)
…and more.
Check out the NinjaGen On-site Hypochlorous Acid Generator + Hands-Free SaniCube Package for your business!
Introducing
The NinjaGen + SaniCube Bundle
Two Great Products…
One Perfect Team!
Generate 200 to 500 ppm
Hypochlorous Acid (HOCL)
on-site with the Microbe Ninja NinjaGen Compact
using salt, water and electricity.
Fill your SaniCubes, spray bottles and more.
Learn more about the NinjaGen
Our Basic Package Includes:
1 NinjaGen Compact Generator
20 SaniCubes + Charging Bases
Your Logo imprinted FREE
(see example below)
Try it risk-free
for 60 days!
Customize with Your Brand Logo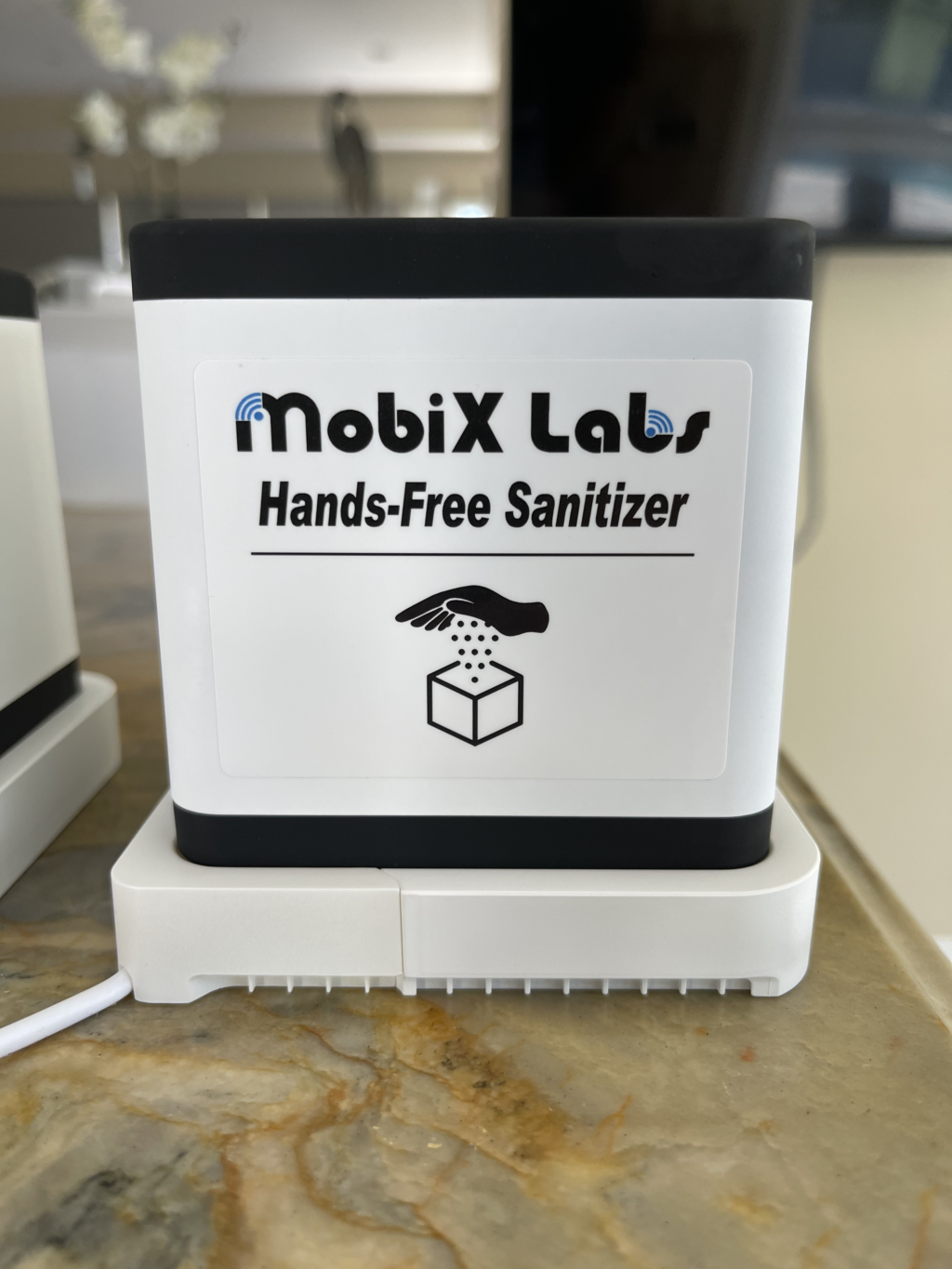 Watch the SaniCube
in Action!
How to set up the SaniCube

Why Hypochlorous Acid is Safe and Highly Effective as a Hand, Skin and Surface Cleaner….
There is unequivocal evidence that HOCL is not much safer to use, and in some cases more effective than the popular sanitizers!